Online Travel Platform Rehlat Launched in the Region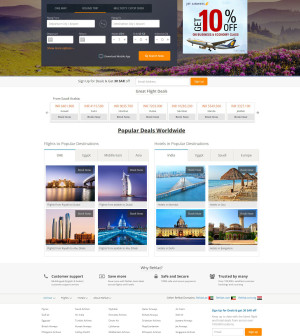 Online travel marketplace options got another new entrant today with the launch of Rehlat. The portal calims that it offers "remarkable offerings of more than 1,000 airlines and 100,000 hotels available worldwide."
"Rehlat actively focuses on not only providing the best prices, but the best performance possible for its clients with an easy user journey. Its online content is carefully crafted to appeal to audiences in the regions of UAE, KSA and Kuwait. The site presents a selection of content and transactional options to its customers by tailoring them to their geographical location; removing the stress of having to work out the currency exchange rate and time difference," said the company in a statement.
The company further added that from the flight to your hotel room, Rehlat will ensure a smooth transition and 24-hour customer care service. "When visiting the site, customers can't ignore the outstanding offers that include booking one night getting the second free, signing up to their deals mailer and receiving 50 AED off, or 50% off business class. The site recently identified their most popular deals linked trips to Egypt, Saudi Arabia, India and Europe," said the company.
Founded by Al Bader Group, Rehlat, meaning 'travel' in Arabic, has become one of the fastest growing online travel agents in the Middle East with operational centres in the UAE, Kuwait and India. In the past year Rehlat has seen tremendous growth in its online presence with over 1.2 million monthly views on the site and with a 120% month-on-month segment growth, perfectly displaying how the site is quickly becoming one of the most rapidly growing travel sites in the Middle East.
"When building Rehlat we identified that one of our USP's should be aimed towards making best user journey and work on localisation to keep customers comfortable. We focus a lot on personalisation and keep ensuring we build amazing products that solve problems for our users and the market too," explained Bader Al Bader, Rehlat's Founder.
Have Your Say!
comments