AWS Launches Amazon Chime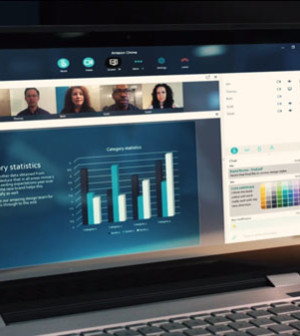 Amazon Web Services (AWS) has today announced Amazon Chime, a new unified communications service that makes meetings easier and more efficient than ever before. With Amazon Chime, customers can start high-quality video and audio meetings with one-click, allowing customers to host or join a meeting, chat, and share content and screens with a seamless, synchronized experience across desktops, iOS, and Android devices.
Amazon Chime takes frustration out of meetings, delivering very high quality video, voice, chat, and screen sharing. Amazon Chime calls all participants when a meeting starts so joining a meeting is as easy as clicking a button in the app, no PIN required. When there's noise on calls (think about how often somebody has to say things like "could you please stop typing so close to the speaker") or somebody joins or drops mid-call, there's no longer mystery who it is as Amazon Chime shows a visual roster of all attendees.
And, any attendee has the power to put an end to background noise by muting any noisy line. Amazon Chime offers strong mobile and desktop apps, and keeps meetings and chats synchronized across devices, so users can join meetings from anywhere via Android, iOS, Mac, and Windows apps (and seamlessly switch from mobile to desktop, or app to app whenever needed). Amazon Chime can be integrated with existing corporate directories, and provides IT administrators the ability to manage identities and control access across an organization.
Amazon Chime requires no upfront investments, complicated deployment, or ongoing maintenance – customers can simply download the application and get started using the service in minutes. And Amazon Chime is one-third the cost of traditional solutions. "It's pretty hard to find people who actually like the technology they use for meetings today. Most meeting applications or services are hard to use, deliver bad audio and video, require constant switching between multiple tools to do everything they want, and are way too expensive," said Gene Farrell, Vice President, Enterprise Applications, AWS. "Amazon Chime delivers frustration-free meetings, allowing users to be productive from anywhere. And with no ongoing maintenance or management fees, Amazon Chime is a great choice for companies that are looking for a solution to meetings that their employees will love to use."
Amazon Chime offers the following benefits:
Like being in the same room, even when miles apart: Amazon Chime uses noise-cancelling wideband audio to deliver high-quality audio and crisp, clear HD video to make it easier to have real conversations in a meeting. And with Amazon Chime, video works great across all user devices and many conference room video systems with no upgrades required.
On-time meetings that can be joined with a single-click: Dialing into meetings has never been easier. Instead of trying to type in those hard-to-remember multi-digit pins, Amazon Chime calls participants when it is time for the meeting to start and lets them join with a single-click. And, those who are running behind can tap a "running late" button to automatically notify everyone in the meeting.
The end of "who just joined?": Once in the meeting, Amazon Chime provides a visual roster that allows users to see exactly who has joined, who is running late, and who can't make it. It also allows everyone to see who is talking or where background noise is coming from – no more barking dogs or loud typists – and anyone on the call can easily mute that participant.
Work from anywhere: Amazon Chime was built for mobile use from day one. With easy-to-use apps for Android, iOS, Mac, and Windows, Amazon Chime keeps meetings and chats synchronized across devices, and users can join meetings from any device and easily switch devices – even in the middle of a meeting.
Sharing made easy: Amazon Chime makes it easy to collaborate. When in a meeting, anyone can share their screen, instantly, without asking a host to "pass the ball," or jump to a different application. For ongoing collaboration outside of meetings, Amazon Chime offers chat rooms that allow people to work together in a single place, securely storing chat history and files for ongoing reference.
Founded in 1818, Brooks Brothers is a leading retailer of fashion wear and accessories in the United States. "Historically, we used a number of unified communications applications inside Brooks Brothers for meetings, calls, and chat," said Phillip Miller, Director of IT, Brooks Brothers. "We normally have to proactively push adoption for new tools to employees, but after starting a pilot of Amazon Chime, we quickly saw interest grow, with internal adoption now reaching 90 percent of our corporate staff without any formal rollout or training. With Amazon Chime, our users get a single application for their communications needs that works on all their devices, and now that it's available we plan to begin retiring the multiple legacy applications we've been using."
Have Your Say!
comments