SouqPlace.com: An Online Marketplace That Connects SMBs and Individuals to a Larger Audience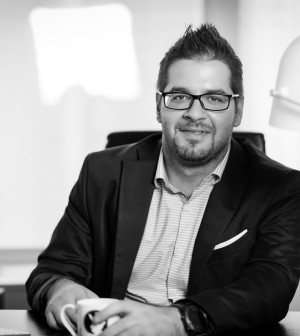 My Startup World speaks to Tony N. Al Saiegh, the Executive Director of Virtual Dusk, the holding company of Souqplace.com, about his entrepreneurial journey so far

When was Souqplace.com established?
Souqplace.com started operations in late 2015, with the aim of providing a platform to the budding SME ecosystem in the UAE. Backed by the Emirati entrepreneur extraordinaire, Ahmed BinSalem Al Dhaheri, Chairman, Virtual Dusk, Souqplace.com aims at providing a platform to the blooming SME space of the UAE to connect with the larger audience and in turn, aims at providing the best products at the most competitive price to the customers.
There are tons of small businesses and talented individuals who design quality products, but do not have the right platform to reach the masses. Souqplace.com was built to connect these amazing products with the larger audience. The ideal objective of Souqplace.com is to make sure they connect talented SMEs to the target audience efficiently and effectively.  The brand is focused towards offering only qualitative products to its customers.
What sort of e-commerce trends have you seen in the region?
In the past few years, there has been a great shift towards e-commerce in the UAE. Internet spending in the Middle East is booming due to easy access and availability of brands. The year 2016 witnessed the growth of online retail in the UAE market. E-commerce already is a huge trend and in future we will have businesses adapting to this online shopping revolution.
Currently, the total value of e-commerce in the UAE is estimated at $2.5 billion (Dh9.2 billion), but this is expected to speed up and generate new businesses and job opportunities. The region is poised for social change, and hence we are on a go to innovating exciting ways to attract the audience.

Retail is a business that will not see a decrease, but will surely see a lateral move from traditional retail to online shops. In 2017, we can expect newer innovations in the way people shop and we can hope to see more and more small businesses acknowledging the impact of going online to reach a wider audience.
Who runs the company? What is the strength of the workforce?
Virtual Dusk, a web development company, runs Souqplace.com. We have around 20 talented individuals working with us between developers, customer care, and so on.
The company started with an initial idea, followed by brain storming between partners who found that the idea was worth pursuing and something that hasn't been done before. Once the idea was finalized, it was followed by branding and identity and then the development to cater to the idea.
What sort of funding went into creating Souqplace.com? Was it through external funding or was it bootstrapped?
It was self-funded and bootstrapped. Souqplace.com is an online marketplace that provides a one–of- a-kind platform for consumers as well as sellers. For consumers, it's an online marketplace that provides access to quality and unique products small businesses and individuals have to offer, all under one roof and for the most competitive price. As for sellers, it gives them a platform to increase their reach and make their products available to everyone. All our logistics and customer / tech support is handled in-house.
What sort of sellers have signed up to Souqplace.com to sell products?Souqplace.com started operations in late 2015 and as any start-up, we are at an initial phase of creating desired brand awareness and winning the trust of customers, both on the buyer and seller sides. On an average, Souqplace.com notices traffic of 250 visitors on a normal day and during campaigns, it increases up to a 1000 users per day.
Around 60 percent of the shops out of the 350 shops associated with Souqplace.com, are those of talented SMEs and individuals. Out of these, 70 percent are operated by females and 30 percent by males.
It is absolutely amazing to see such a large number of women taking on entrepreneurship. There are incredible products made by them that are loved by a lot of our customers. Some make products part-time and have a full time job and some are home makers who want to fulfill their hobby. We have highly talented woman who are extremely well known for creating Abayas whereas as few others for creating beautiful heels.
Did you face any challenges when starting up? If yes, how did you overcome it?
As for any company, there were many challenges we had to face. It was all about trial and error. We just believed in that initial idea and the unlimited possibilities it holds and charged right ahead to make it possible. We currently cater to the UAE market, bit we are looking at regional and international expansion in the next two years.
What advice do you have for budding entrepreneurs in the region?
Keep going! Never give up. That would be the most important advice for any budding entrepreneur. Starting your own startup is a tedious job, there will be a lot of challenges you would face. There would come a time, you might think of giving up. That's the most crucial time; it's the time that decides whether you will succeed or not. If you give up, it's a wonderful opportunity lost. But if you persevere and give it all at that moment, you will have no regrets.
If you learnt one thing from starting up your company, what would that be?
Mistakes are the best teachers. You have probably heard this a lot, but it's like the initiation rite for any entrepreneur. You are bound to face challenges, to make mistakes, it's how we handle these mistakes is what matters. What you learn and how you apply these lessons make the difference.
Have Your Say!
comments