Hajjnet, a Dubai based startup has just released a smart phone Umrah guide that will support millions of pilgrims in every step of their pilgrimage and with full social media integration.  UmrahSalam is a mobile app that offers today's pilgrim the real-time, location and process based support they need to focus on the spiritual aspects of fulfilling their religious obligations. Features include prompting pilgrims to read or hear the appropriate Duas or prayers at the right time and place; counting the number of Tawaf as they are being performed and full camera, map & Social Media integration.
For users of the app, the Umrah pilgrimage is now a far more informed experience right down to what to do and when by actual visualisation of the process and key routes so travellers know where they are heading. Throughout Umrah, Pilgrims are prompted with the key Duas and supplications that they can listen to as well as read in Arabic, English or English transliteration. The app also allows them to compose their own personal Duas and have them accessible at any time on the toolbar.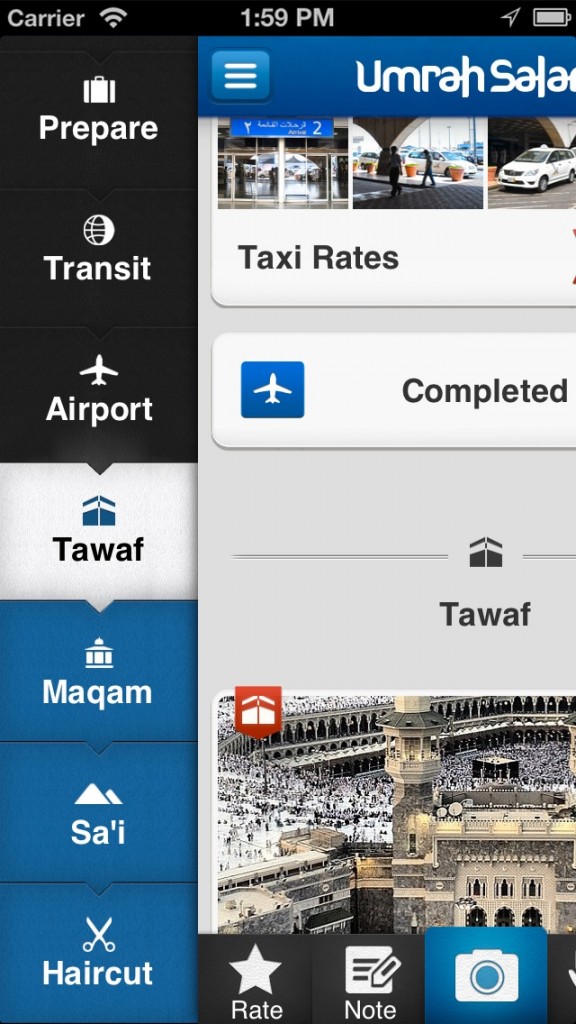 UmrahSalam enables travellers to find their hotel from a comprehensive and frequently updated database, and pin it to a map so they can locate their hotel or any other landmark to avoid getting lost. A packing list helps them prepare for the journey and not forget essential items; while a digital journal helps them record and share location and personal moments with loved ones. Instructional videos are also available on how and when to wear the Ihram – white garments that pilgrims must wear before performing their religious observances.
"There was a tremendous need for an app that could support pilgrims from the moment they set about preparing throughout every step of the pilgrimage.  We wanted to help Muslims focus on the spiritual aspects by relieving some of the pressure of the process and logistical problems that cause so many issues.  UmrahSalam answers that need by providing a virtual guide that helps pilgrims' plan their journey, track their location, say the correct Dua at the correct time and place, find their hotel, and record and access their own personal Duas," said Ali Dabaja, founder and CEO of Hajjnet.
Dabaja founded Hajjnet in January 2012, inspired by the stories of so many Pilgrims that undertook Hajj and Umrah and the challenges they faced. The ex-banker seeks to make Islamic faith fulfilment and travel more informed and accessible for everyone.
"The Hajj and Umrah pilgrimages are so extremely important to many of us not only in the region but all over the world, and we wanted to make their travels easier. It's about making the journey safer, more personal and memorable. The purpose of this app is simply to have a better, more involved experience while avoiding possible pitfalls," he said.
UmrahSalam is available for a limited time as a free download on the iPhone, and soon on Android. Right now the app is only available in English but Arabic will be launched shortly.  It can be found at: www.hajjnet.com/umrah